Frequently Asked Questions
Are the plastic face shields reusable?
---
Yes, our plastic face shields are perfectly reusable and safe.
---
How should I clean my face shield?
---
We recommend cleaning face shields with mild soap and water, or any acrylic cleaner is fine too. If you would like to further disinfect your shield with alcohol you may do so but please be aware that alcohol may damage the shield over time.
---
Why can't I see through my shield?
---
All of our shields are Optically crystal clear- but all of them will be delivered with a protective film. This film varies with material suppliers- so it may fristed/foggy or white with writing on it. In all cases though, it can be peeled very easily, using a fingernail to get started. The protective film helps with sanitation of the final product as well as protecting from being scratched in transit. See the quick video below for a demonstration.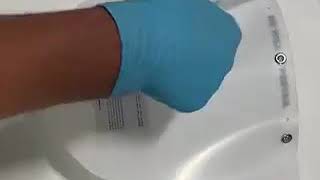 ---
Can I return my product if I don't want it anymore?
---
Unfortunately all sales are final once items are shipped. If there is a damage to your item please email us at claims@symmetrymiami.com with your order number and pictures.
---
Why is my order taking longer than a day to ship?
---
Due to high order volume we may experience delays in handling your order, we try to fulfill all orders as soon as possible, as we know our items are essential for safety, but handling and shipping times are two separate entities. When your package leaves our facility and is handed to the carrier, they scan it and should deliver it within their estimated delivery time frame. Some carriers are experiencing delays dut to the increased volume of shipments nationally some delays may be incurred.
---
How long does it take for my package to arrive?
---
Typically we ship out orders within 1-3 business days. Arrival of your order depends on shipping methond you select and carrier transit times. Ground shipping usually takes longer than expedited shipping.
---
Why is my product foggy?
---
All of our acrylic products come with a protective film that needs to be peeled off.
---
Are the shields FDA approved?
---
Our Face shield is authorized by FDA under an Emergency Use Authorization (EUA) for use by healthcare providers as personal protective equipment (PPE). It has not yet been FDA cleared or approved. Our Shield is only authorized for the duration of the declaration that circumstances justifying the authorization of emergency use under Section 564(b)(1) of the Act, 21 USC 360bbb-3(b)(1)
---
Do the kids shields fit all kids?
---
Although our children face shields fit most children we recommend them for ages 6-12
---
How should i store it?
---
You should store your shield inside down, to avoid scratches, or assembled in an open space. Room temperature should be no higher than 120ºF to avoid foam displacements. Do not leave in car since this will cause velcro adhesive to melt.
---
Can I leave the shields in my car?
---
We highly recomend that you do not leave your face shields in the car. The increased heat can cause the velcro adhesive to melt and come loose.
---
What is the order minimum?
---
There are no order minimums on any of our products with the esception of Hard hat attachment shields and custom printed items.
---
Are your shields for medical use only?
---
Not at all. Our face shields are being worn by essential workers in stores, in office settings, and on construction sites. Even if its just an occasional visit to to the grocery store our face shields will offer protection to everyone.
---
Do I still need to wear a face mask with the face shield?
---
We recommend following all CDC guidelines. Wearing a face mask along with your face shields lowers the risk of contamination. Some places may require a face mask to be work along with the face shields.
---
I did not recieve my package but my traking number says it was delivered. What can I do?
---
We are not responsible for any lost or stolen packages. Once your order is picked up by carrier, they assume responsability. If this is the issue we can file a claim with carrier and await resolution from them. We recommend that you check with any neighbors to see if package was left at the wrong address. If you have any security or door bell cameras, please check footage to ensure package was delivered and not taken by any person. In order to ensure safe and secure package delivery we recommend these following: • Be on the lookout for delivery and shipping confirmation email • Have package delivered to a Fedex Office, Office Depot, Office Max, or any other retailer that can securly recieve package and hold for you to pick up. • Quickly notify us if you have not recieved your order within 7-10 days to ensure package was shipped.
---
---